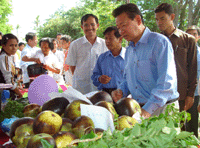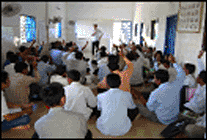 Since 1998, farmers (mostly rice farmers) have started to organize themselves into village-based associations and network, with support from CEDAC. The associations are playing an important role in promoting mutual help, solidarity and cooperation among villagers, as well as coordinating and undertaking collective action in developing ecological agriculture, natural resources management, cooperative business practices and community development.
The typical activities of the associations are agricultural extension, community led savings and credit schemes, group marketing, training for young farmers, capacity building for women groups, support for poorest families, awareness raising on issues related to conservation of natural resources, advocacy with local authorities etc. Farmers associations have also played an important role in influencing local development policies and challenging local authorities to be more responsible for community development and natural resources management.
By June, 2009, there are 1,107 villages based farmer associations in 1,104 villages of 11 provinces of Cambodia with around 40,292 members (23,591 of them women) established with support from village based farmer association and CEDAC, and the number has been strongly increasing since early 2004. The associations are linked together in an independent national network or confederation called "Farmer and Nature Net" or FNN.
The first general meeting of the net was organized in Siem Reap in December 2003 with around 100 participants, and the second general assembly was held in December 2004 in Kampong Cham with around 300 participants. The general assembly elected 13 members to the network committee and 60 representatives to the special assembly. The committee and special assembly are expected to carry out statutory duties, represent FNN to the public and provide capacity building support to member associations. In December 2005 the third general assembly of FNN was conducted in Prey Veng province with around 900 participants. December 2006 the fourth general assembly (GA) was organized in Takeo province with around 1 400 representatives of VFA participated. The fifth GA was organized in March 2008, reelected the new FNN committee for the third mandate and long term strategic plan were organized. The sixth GA was organized in December 2008 with 60 participants and aimed at presenting the new structure of FNN in 2008, restructuring and reelecting the member of board of FNN and long term strategy plan.
Besides CEDAC, there are many partners who support the national FNN. They include, FNS (Friedrich Naumann Foundation, Germany), Agri-Terra (Netherlands), AFDI (French Agriculturist for International Development), CFSI (French Committee for International Solidarity), DANIDA (Danish International Development Assistance), Oxfam GB and Oxfam America. In 2009, Agri-Terra is providing core funding to the FNN.
On March 10, 2006, the FNN was register officially as a National Farmer Association. The FNN is also become the regular members of AFA (Asian Farmers' Association for Sustainable Rural Development) and LVC (La Via Campensina).
Statute of Farmer and Nature Net